Liquid Organic Manure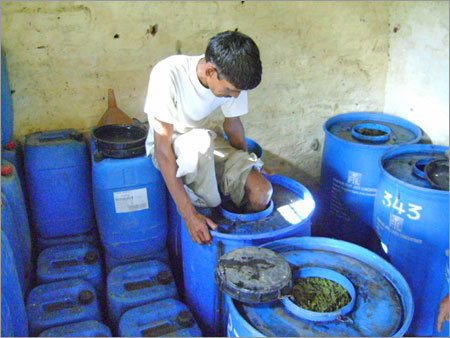 Liquid Organic Manure
M.V.M - 24
It is the composition of neem,haldi(turmeric),dhatura,cow urine(gau mutra) and like other 24 things. it has to spray it on plants. by using it plants prevents from all type of dieseases. & future no one new diseases can harm to plants. it helps in increase of favourable insects for plants and kills the harmful insects for plants.it prevents our plants being polluted. it empowers the plants & trees like ghee by spraying it on trees.production increases 100% by using of it. & taste of fruits & vegetables also increase by using of it. it works for all types of fruits trees, vegetables plants & for cropes.
How to use:
Once in a year by mixing of 1 kg mvm-24 with 20 kg water through drip system. we spray it on fruits & plants.

Every 20th day by mixing of 2.5 kg to 3 kg mvm-24 with 100 kg water will have to spray on vegetables plants.

While using mvm-24 organic manure you will be no need of using any type of chemical manure. & your vegetables plants produce vegetables for long time.
Contact Details
SATYAM ORGANIC FARMING
Purity is What we serve
Office No. 51, 3rd Floor, Ma Gayatri Complex, Near D-park, Model Town,Rohtak - 124001, Haryana, India
Mr. Abhimanyu Swami (Corporate Communications)