Vermi Compost Organic Manure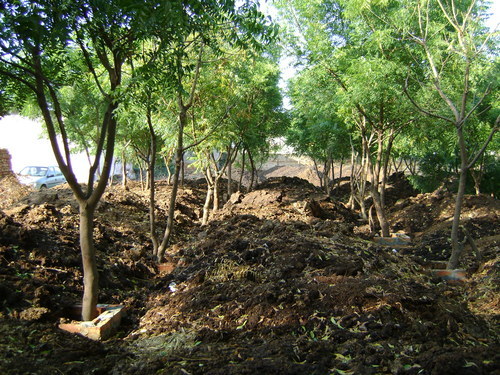 Vermi Compost Organic Manure
Vermi Compost Organic ManureMethod of Vermi Compost manufacturing
Vemiculture is natural rearing or cultivation of worms (Earthworms) and the technology is the scientific process of using them for the betterment of human beings. Vermi compost is the excreta of earthworm, which is rich in humus. Earthworms eat cow dung and pass it through their body and in the process convert it into vermi compost. Conversion of cow dung by earthworms into compost and the multiplication of earthworms is simple process.
Our vermicompost is of high quality as while the conversion process we keep the heap of dung in the Neem's tree shade because when neem's leaves, small branches of neem and neem's fruit fall on the compost then it increase the quality and effectiveness, enzymes, alkaloids in vermi compost.
Advantages of Vermicomposting
Vermi compost increases the air and water holding capacity of the soil.
It is odourless.
Useful micro-organism are found in abundance in it which synthesize the organic-materials useful for plants.
It is rich in bioactive compounds ze auxins etc.
Humic acid is a co-produce during vermi composting produce.
It is easy to handle the products
Pathogens are very less in number.
Vermicompost is an ecofriendly natural fertilizer prepared from cowdung and is free from chemical inputs.
It does not have any adverse effect on soil, plant and environment.
It improves water retention capacity of soil because of its high organic matter content.
It promotes better root growth and nutrient absorption.
It improves nutrient status of soil, both macro-nutrients and micro-nutrients.
EFEECTS / RESULTS / USES OF VERMI COMPOST
Proper uses of agri farm residues.
Availabilty of essential elements in balanced ratio.
The produces can be stored for a longer period.
Water and soil conservation.
Colour, Quality, Taste and shinig of all type of agro-produces is increased.
Agro produces is very health friendly.
Eco Friendly.
Agro produces are free from all poisonous elements.
Contact Details
SATYAM ORGANIC FARMING
Purity is What we serve
Office No. 51, 3rd Floor, Ma Gayatri Complex, Near D-park, Model Town,Rohtak - 124001, Haryana, India
Mr. Abhimanyu Swami (Corporate Communications)